Hello Dear Friends, Cultural Creatives & Seekers Everywhere,
Happy New Year and wishes for a Healthy, Happy, and Harmonious 2022!
For this month:
Take care of your own backyard … before you go out and save the world.

~An old Hippie proverb from the last century
The landing of astronauts on the moon on July 20, 1969, led to a photo that changed civilization … a picture of Earth on the Moon's horizon. The photo of the blue-green Earth suspended in space radically changed the public's consciousness of the Earth as being a planet of unlimited resources. The first time the public saw the distant Earth, as a small gem isolated in the massive blackness of empty space, it changed humanity's consciousness. No longer was the Earth viewed as a vast planet, for it was now perceived as a small "spaceship" hurtling through space.
A large population of youth, especially those labeled as "hippies," and a community of elders, recognized that the planet possessed limited resources to support human civilization. At this time, the youth led a movement to take care of the Garden from whence we came. The movement began to monitor the quality of the air, the water, the forests, and it especially supported the children to live in love and harmony, as the country was sending its youth to fight a corporate-sponsored war in Vietnam.
Nine months after the NASA photo was circulated in the public media, activists organized the first Earth Day on April 22, 1970, an effort to bring awareness of the planet's fragile ecosystem into civilization's consciousness. It was a call to nurture the planet. This is why I refer to the green-activists of today as the founders of a new civilization, a Mammalian Civilization, so-called because the character of mammals is that they are inherently "nurturers."
But over time, the "we-generation" hippies faded away and were replaced by the "me-generation" yuppies. Activist youths traded their faded jeans in for suits, high paying jobs and BMWs. What happened? It was a consequence of the 400- year-old Jesuit saying: "Give me a child for the first seven years and I will give you the man." While the hippies were sowing their seeds in their youth, as they got older, their behavior conformed to their childhood developmental programming of pursuing the American Dream.
This is why the above quote about "taking care of your own backyard" is so vitally important before we go out and try to "save the world." It is difficult to save the world when, inevitably, 95% of our cognitive activity is unconsciously-derived from subconscious mind programs downloaded by observing our parent's and community's behaviors when we were under 7 years of age.
The point is while our conscious minds want us to be activists and create a better world, it is our invisible downloaded familial behavioral programs that controls our behavior. The quote emphasizes that we must first address our own dysfunctional programs before we can help others.
I know this truth first-hand. When armed with my science of epigenetics and quantum principles, I attempted to tell people how to create a Heaven-on-Earth life. Audience members would observe me and say, "Lipton, your life doesn't look that good for a guy who says he knows how to create such a beautiful life." I was going out save the world with conscious awareness, yet the behavior of my own life was a bit of disaster due to limitations of my own developmental programs.
It was only after I became aware of the conflict between my conscious awareness and the dysfunctional subconscious programs that characterized my life, that I finally heeded the hippie quote. I stopped my effort of going out to change the world by "telling" others how to create Heaven-on-Earth. I recognized that I had to first go home and "take care of my own backyard" by recognizing and managing my own disempowering and self-sabotaging subconscious programs.
Fortunately, as soon as I actually applied the principles in my own life that I was trying to tell others about, my life radically changed. Since then, I have "cleaned-up" my own backyard by transforming my dysfunctional subconscious programs into life-enhancing behaviors. My life immediately began to manifest heaven experiences, so much so, that I wrote The Honeymoon Effect book to help others empower their lives.
Once I began "walking the talk," rather than just "talking the talk," audiences began to see the empowerment my message offered and then they seriously began transforming their own lives. As we move into this New Year, a resolution to "take care of our own backyard," will empower us to easily move through the chaos of a world that is currently evolving into a higher order.
With Wishes of Good Health, Good Cheer, a life of Heaven-on-Earth, … and, of course,
Love, Light, and Happiness,
Bruce
---
Upcoming Events
At this time we are planning for these events to occur and will notify you if there's a change in schedule.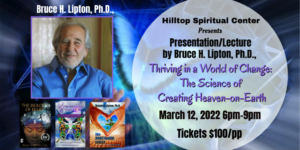 Thriving in a World of Change: The Science of Creating Heaven on Earth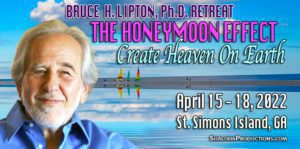 The Honeymoon Effect: Create Heaven on Earth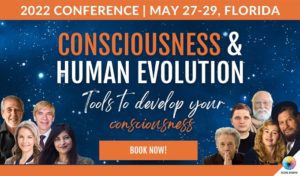 Consciousness & Human Evolution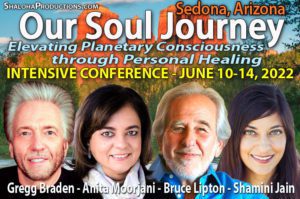 Our Soul Journey: Elevating Planetary Consciousness through Personal Healing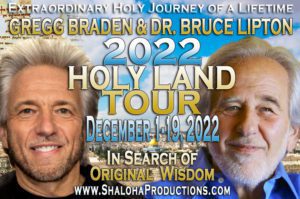 Holy Land Tour with Gregg Braden and Dr. Bruce Lipton
---
Bruce's Spotlight
Years of lecturing around this beautiful planet have provided me an opportunity to encounter wonderful Cultural Creatives that are helping to bring harmony into the world. Each month, I want to honor cultural creatives by sharing with you the gifts they have shared with me.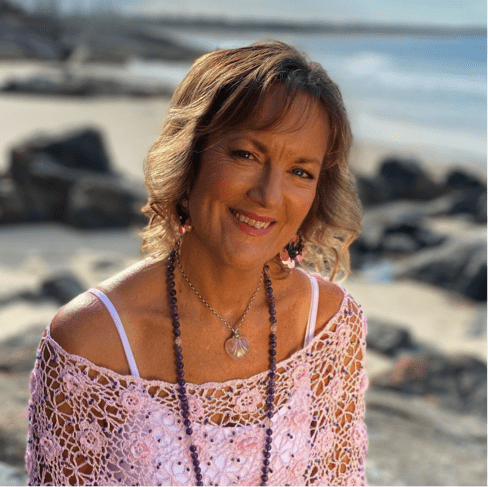 This month I would like to honor Julia Williamson and Sing to Thrive, whose mission is to support people in finding their voice, the voice that may have been repressed or lost through all the many situations humans find themselves in.
Birthed in 2020, all of the songs offered in Sing to Thrive have healing mantras and positive affirmations woven through them. In Julia's words, "We all want to be fully expressed in our lives, to be able to ask for what we want and express ourselves freely. This work is dedicated to liberating the voice. We have family music albums, healing activations, teaching resources and online lessons to inspire people to find their voice and transform their life."
There are complimentary gifts on the website and a 20% discount coupon code STAYINSPIRED especially for the Bruce Lipton community. Head to the Sing to Thrive website and download your free gift now, because did you know when you feel inspired you can't feel fear or anxiety? It's a no-brainer Bruce!
Follow them on Instagram, Facebook , LinkedIn and enjoy our latest inspirational music clips on youtube, MOTHER GAIA and WAKE UP.
---
Featuring Bruce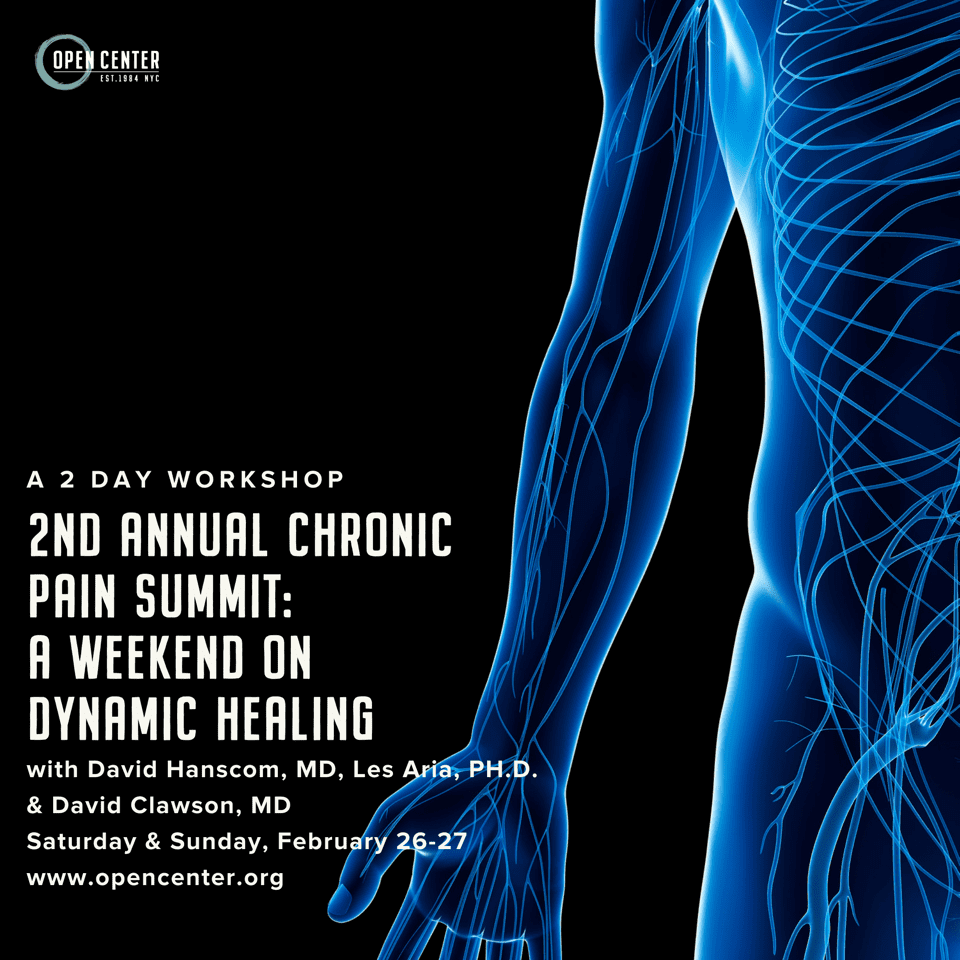 2nd Annual Chronic Pain Summit: A Weekend on Dynamic Healing
Now more than ever, there is a need to shift the paradigm of chronic pain towards modern pain neuroscience, which suggests chronic pain is not a result of structural, nerve or tissue damage but rather a problem with how the brain and body send and receive information within the nervous system. Join Bruce, Les Aria, PhD and David Hanscom, MD who are teaming up again to bring us their groundbreaking work designed to ease suffering and manage chronic emotional and physical pain. Register HERE.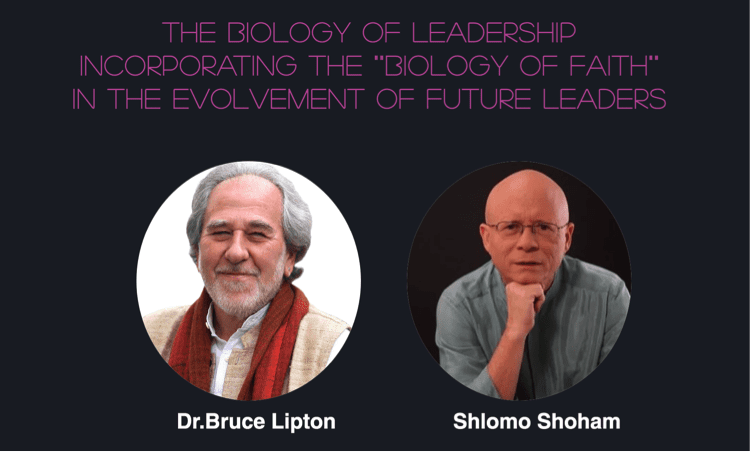 Special Webinar with Shlomo Shoham and Bruce H. Lipton, Ph.D.
Join Bruce and Shlomo on February 3 for a discussion on the Biology of Faith.  Register HERE.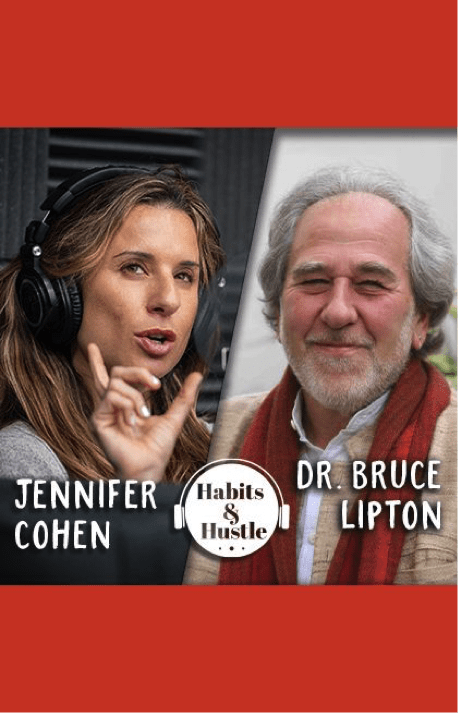 ---
New Audio Book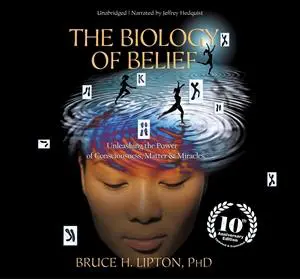 It's been 17 years since The Biology of Belief was first published, and we are happy to announce that a full UNABRIDGED audiobook of the 10th Anniversary edition is now available for purchase! A wonderful gift!
---
Special sale for a limited time!
Purchase this bundle of Spontaneous Evolution Book + Audio Book CDs and receive 20% off!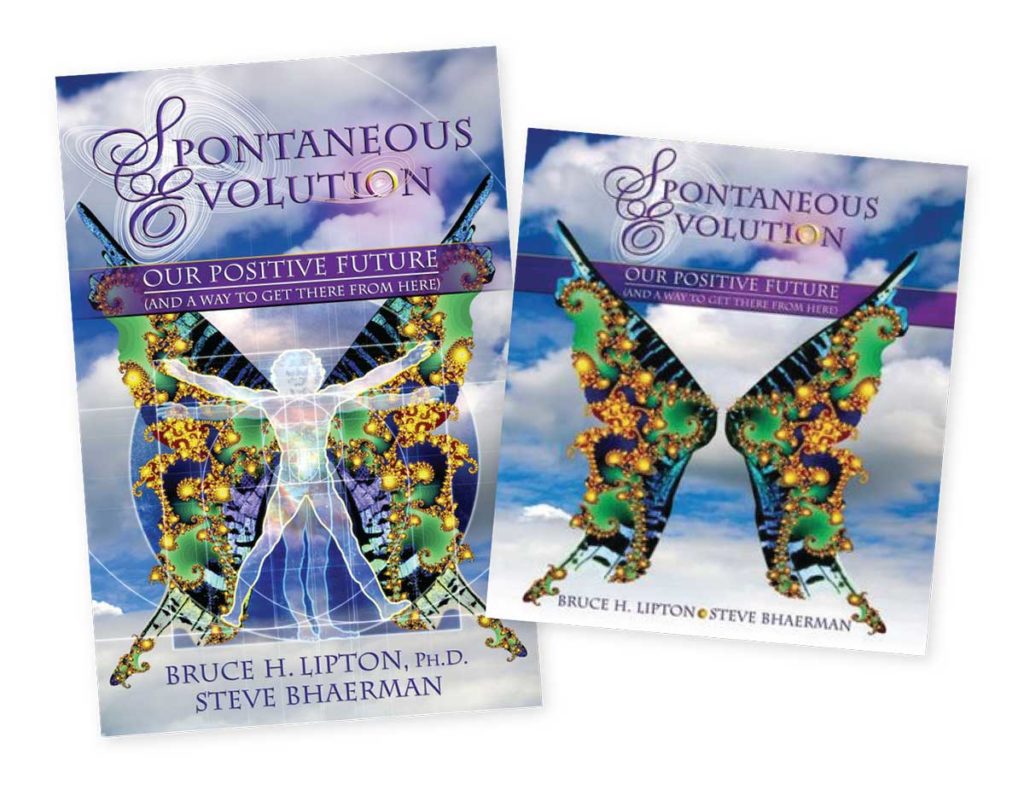 $51.90 $41.52
---
Become a Member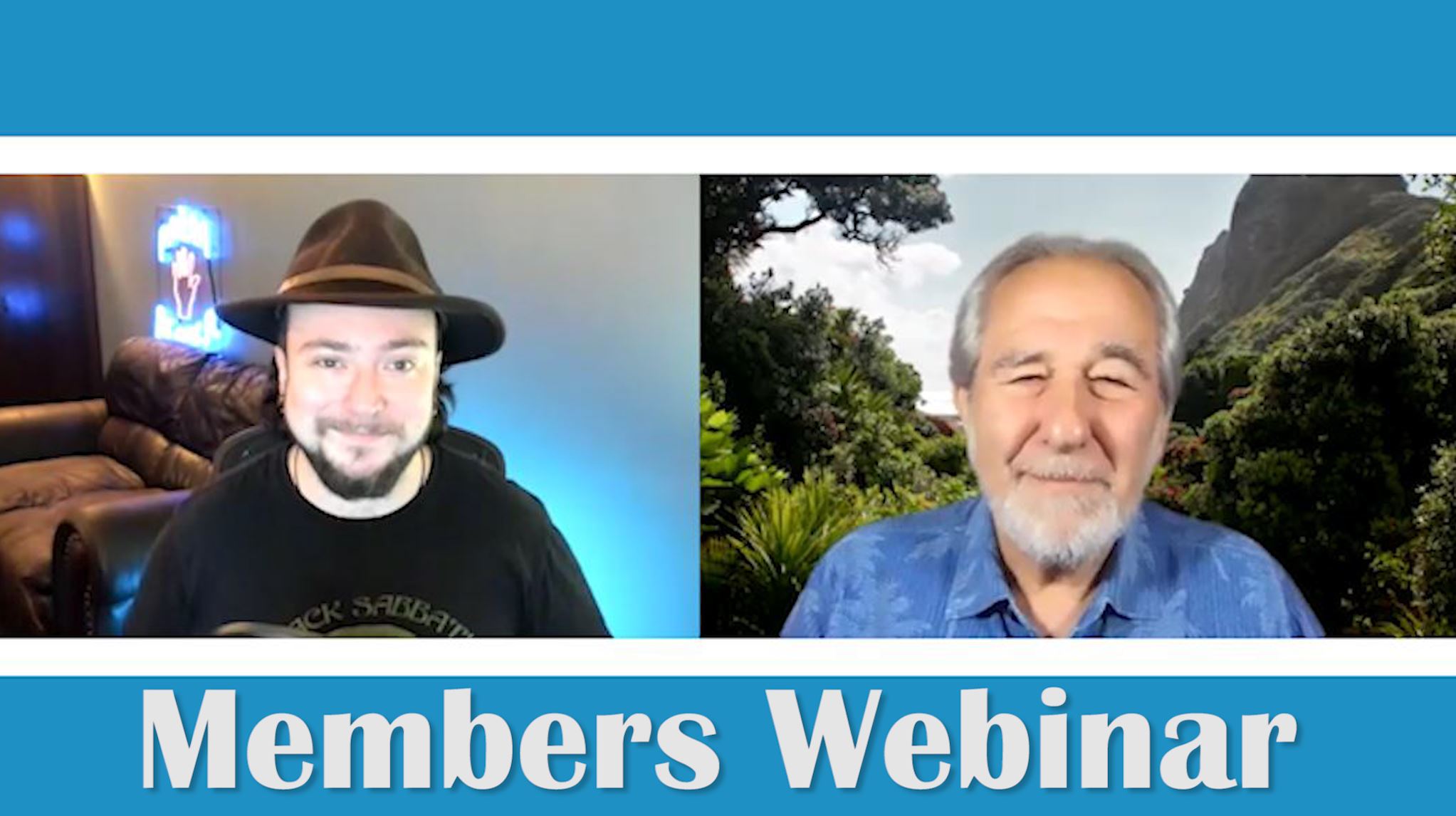 Join today for the next Membership Call, happening Saturday February 19th at 9:00am PDT and get exclusive access to the audio and video resources in the Bruce Lipton Archive – featuring over 30 years of cutting-edge research and teaching. Plus, when you join you'll have the chance to ask your questions and hear Bruce LIVE on our Monthly Member Webinars. Learn more about Membership details.