---
The Biology of Belief: Unleashing the Power of Consciousness, Matter & Miracles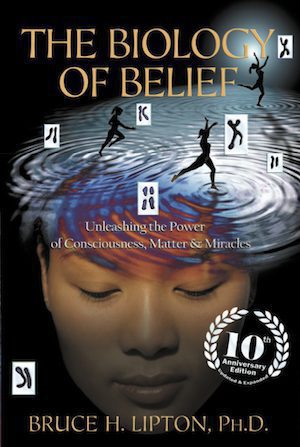 This new updated and expanded 10th anniversary edition of The Biology of Belief will forever change how you think about your own thinking. Stunning new scientific discoveries about the biochemical effects of the brain's functioning show that all the cells of your body are affected by your thoughts. Bruce H. Lipton, Ph.D., a renowned cell biologist, describes the precise molecular pathways through which this occurs. Using simple language, illustrations, humor, and everyday examples, he demonstrates how the new science of epigenetics is revolutionizing our understanding of the link between mind and matter, and the profound effects it has on our personal lives and the collective life of our species.
"I read The Biology of Belief when it first came out. It was a pioneering book and gave a much needed scientific framework for the mind body spirit connection. Bruce's insights and research created the basis of the epigenetic revolution that is now laying the foundation for a consciousness based understanding of biology. We are all indebted to him."

Deepak Chopra, MD, FACP,
Co-Author with Rudolph Tanzi, Super Genes: Unlock the Astonishing Power of Your DNA for Optimum Health and Wellbeing
Table of Contents & Chapter 1 | Preview on Issuu | Download Chapter 1 (PDF) | Buy Now in Our Online Store | More Order Options
---
Spontaneous Evolution: Our Positive Future (And a Way to Get There from Here)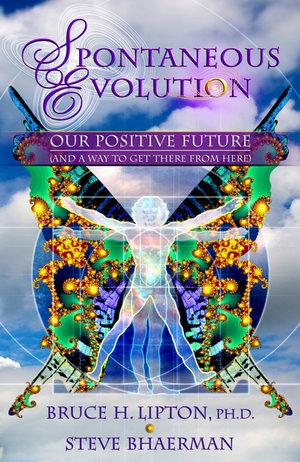 Humanity is On the Brink of Spontaneous Evolution
Spontaneous Evolution offers the information, inspiration and invitation to participate in the greatest adventure in human history — conscious evolution!
Economic meltdown … environmental crisis … seemingly endless warfare. The world is in critical condition.
We've all heard stories of people who experienced seemingly miraculous recoveries from illness, but can the same thing happen for our world? According to pioneering biologist Bruce H. Lipton, it's not only possible, it's already happening. We are surrounded by the proof that we are poised to take an incredible step forward in the growth of our species. In Spontaneous Evolution, this world-renowned expert in the emerging science of epigenetics teams up with political philosopher Steve Bhaerman to offer a new and hopeful story about humanity's evolutionary destiny.
Table of Contents & Chapter 1 | Preview on Issuu | Buy Now in Our Online Store | More Order Options
---
The Honeymoon Effect: The Science of Creating Heaven on Earth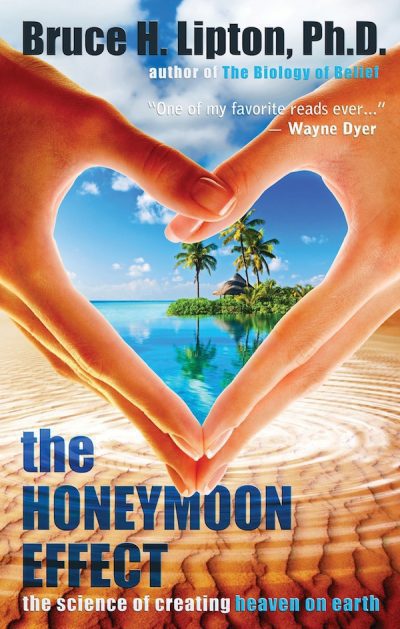 The Honeymoon Effect: A state of bliss, passion, energy, and health resulting from a huge love. Your life is so beautiful that you can't wait to get up to start a new day and you thank the Universe that you are alive. Think back on the most spectacular love affair of your life—the Big One that toppled you head over heels. For most, it was a time of heartfelt bliss, robust health, and abundant energy. Life was so beautiful that you couldn't wait to bound out of bed in the morning to experience more Heaven on Earth. It was the Honeymoon Effect that was to last forever. Unfortunately for most, the Honeymoon Effect is frequently short-lived. Imagine what your planetary experience would be like if you could maintain the Honeymoon Effect throughout your whole life.
Bruce H. Lipton, Ph.D., bestselling author of The Biology of Belief, describes how the Honeymoon Effect was not a chance event or a coincidence, but a personal creation. This book reveals how we manifest the Honeymoon Effect and the reasons why we lose it. This knowledge empowers readers to create the honeymoon experience again, this time in a way that ensures a happily-ever-after relationship that even a Hollywood producer would love. With authority, eloquence, and an easy-to-read style, Lipton covers the influence of quantum physics (good vibrations), biochemistry (love potions), and psychology (the conscious and subconscious minds) in creating and sustaining juicy loving relationships. He also asserts that if we use the 50 trillion cells that live harmoniously in every healthy human body as a model, we can create not just honeymoon relationships for couples but also a "super organism" called humanity that can heal our planet.
Table of Contents & Chapter 1 | Preview on Issuu | Buy Now in Our Online Store | More Order Options