Hello Dear Friends, Cultural Creatives & Seekers Everywhere,
Evolution in Process
Reading the news, surfing the Web, or looking out your window, you will observe that civilization is in a world of crises: From economic collapse to environmental decay, from social and political upheaval to climate change, from hunger, poverty, war, to even a global pandemic. The bigger issue, hiding in the shadow is that humans have precipitated the planet's 6th Mass Extinction, an event that includes the collapse of civilization. NASA research has acknowledged that industrial civilization is facing an "irreversible" collapse" within the next couple of decades.
Crisis Ignites Evolution!
If today's headlines make you wonder about the fate of our planet, here is some news that may surprise you, from an evolutionary standpoint, we are exactly where we need to be. The fact is that civilization is currently, simply unsustainable. Survival requires a radical change in global culture, hence the current chaos as the today's civilization is dissolving and a new one is forming.
A pattern that has shaped ten thousand years of civilization's evolution, from ancient Animism to Polytheism, to Monotheism, and to today's world of Scientific Materialism, is described in Spontaneous Evolution, reveals that the rise and fall of civilizations are based on how a culture values the realms of matter and energy (spirituality). The higher on the chart a civilization is placed, the more it emphasizes spirituality. In contrast, the lower position on the chart represents the greater emphasis a culture places on the material realm.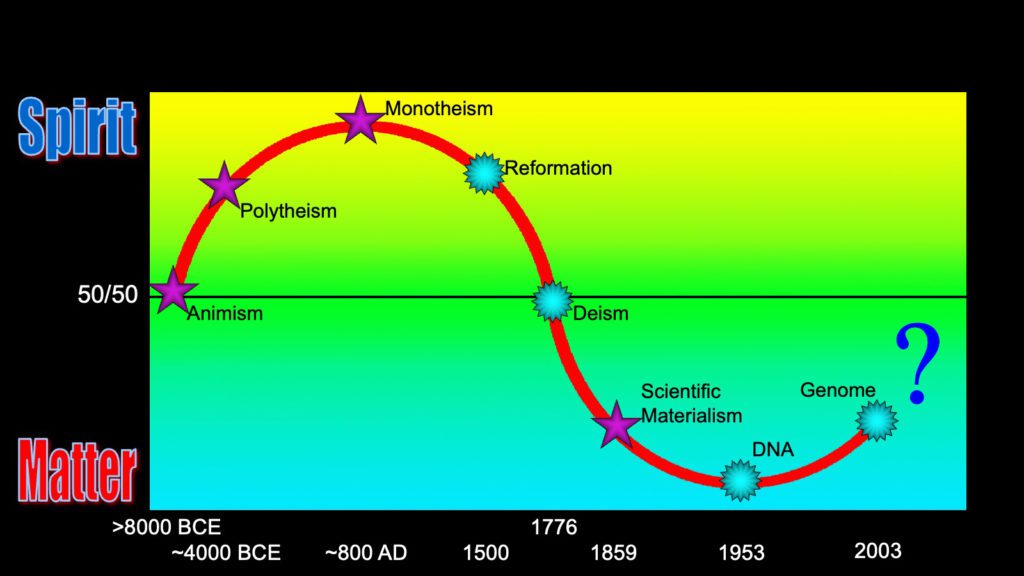 The important value of the balance of matter and energy is expressed in culture's positioned on the 50/50 midline. For example, 10,000 years ago, Animists, for example, the Native Americans, perceived that everything made from matter was also made of spirit, be it a blade of grass, a tree, a rain drop, or a human. In the 1700's, the Age of Enlightenment led to Deism, the philosophy of the Founding Fathers of the United States, including Washington, Jefferson, and Franklin, was modeled on the Native American culture emphasizing peace and harmony.
Hopefully, you can project the character of the next phase of our evolution … a return to the midline and the manifestation of global peace and harmony. An interesting fact is that as we approach this midline, there is currently a major "tug of war" between the polar views of religion and science as they butt heads in their effort to control the fate of civilization's immanent evolutionary upheaval. History reveals that planetary peace will come about when the two realms of matter and spirit once again come into balance; a philosophy held by Indigenous people who perceived of Earth as a Garden and they as gardeners.
I hope you enjoy this month's video, a play on early Apple TV ads comparing Macintosh to PC's, which emphasizes the harmony between modern Science and Religion. YES … There is a beautiful Light at the end of the tunnel!
Wishing YOU a Holiday Season filled with Love and Joy.
Bruce
---
Upcoming Events
At this time we are planning for these events to occur and will notify you if there's a change in schedule.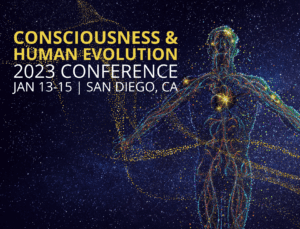 Consciousness & Human Evolution Conference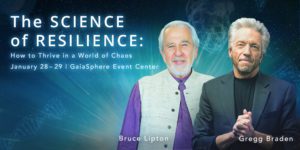 The Science of Resilience: How to Thrive in a World of Chaos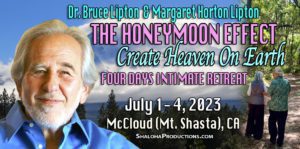 The Honeymoon Effect: Create Heaven on Earth

Bruce Lipton & Gregg Braden in Rimini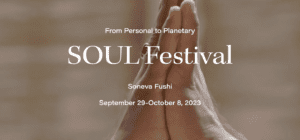 ---
Bruce's Spotlight
Years of lecturing around this beautiful planet have provided me an opportunity to encounter wonderful Cultural Creatives that are helping to bring harmony into the world. Each month, I want to honor these cultural creatives by sharing with you the gifts they have shared with me.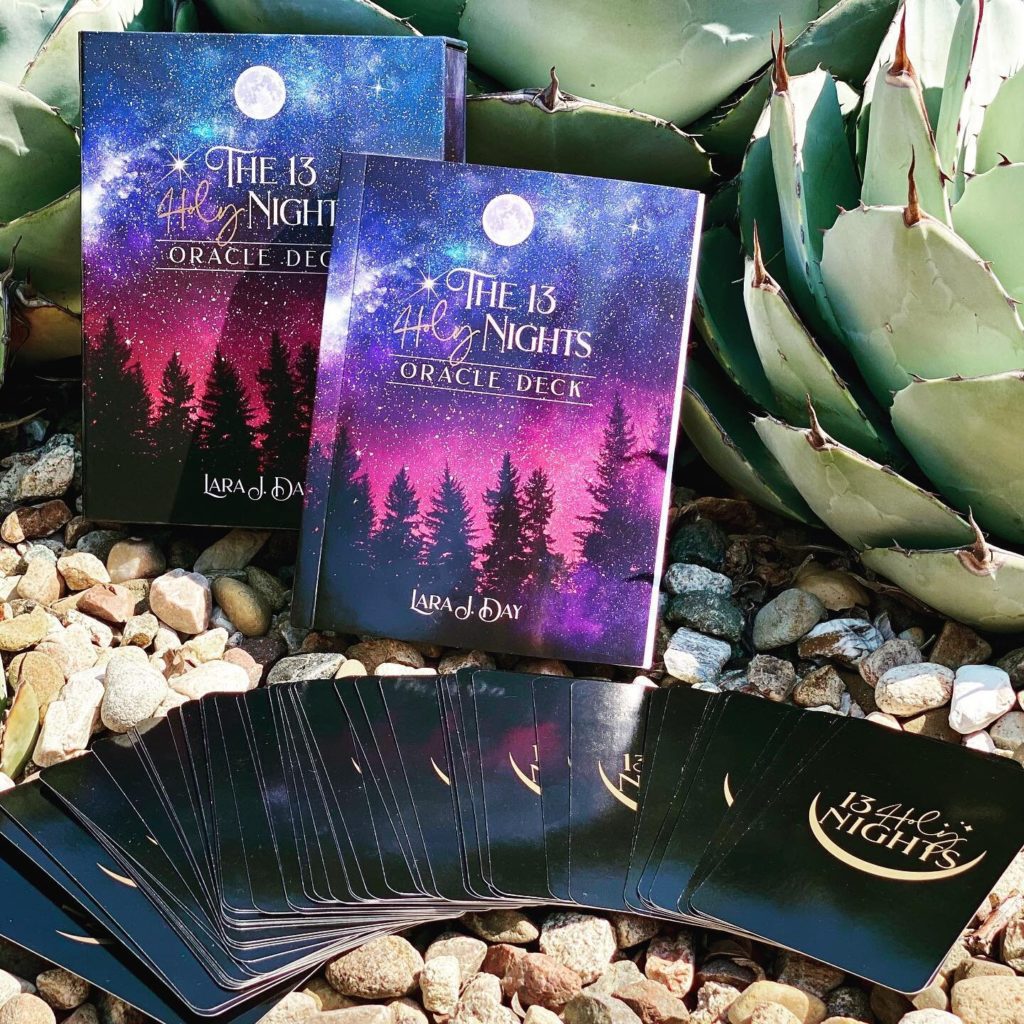 This holiday season, I'd like to introduce you to Lara J. Day and her 13 Holy Nights Oracle Deck. Lara's mission is to take the over-commercialized winter holidays back from the makers of materialism and to return the true magic of the solstice season to humanity. Instead of being swept away in the yearly avalanche of commercialism and materialism this beautiful practice support us in slowing down and tuning in; reconnecting us to our own inner light…to the mystery and magic of that something greater.
Please visit this WEBSITE to learn more bout the 13 Holy Nights journey.
---
Featuring Bruce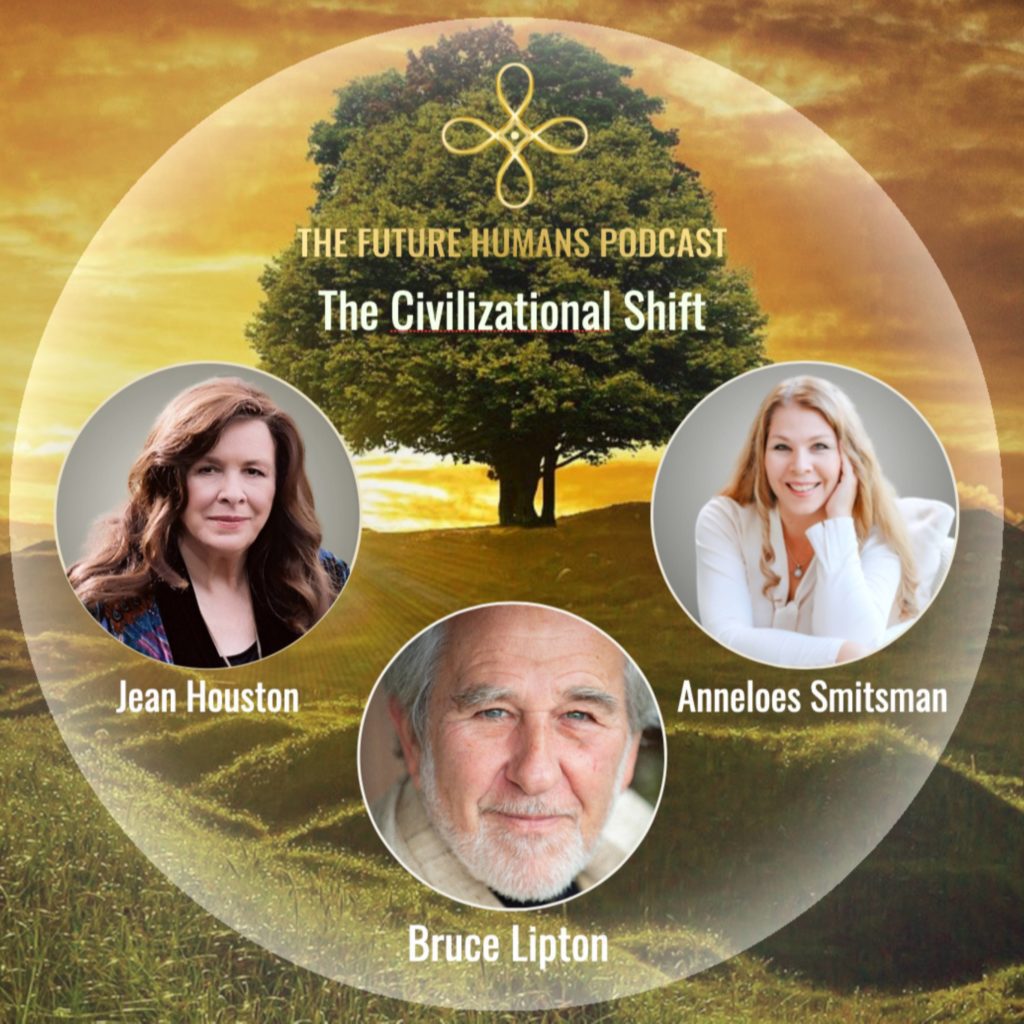 The Future Humans Podcast In this conversation with Jean Houston and Anneloes Smitsman, Bruce explains how we can't build a sustainable civilization from the one that is causing the sixth mass extinction, and how the transition to becoming a "butterfly civilization" requires a major shift in consciousness from mental victimhood to owning our power as creators. He further explains how a change in consciousness is the foundation of evolution. Continue watching till the end to learn about conscious parenting and the importance of empowering our children for the necessary shifts in consciousness and our 'spontaneous evolution.' Listen HERE.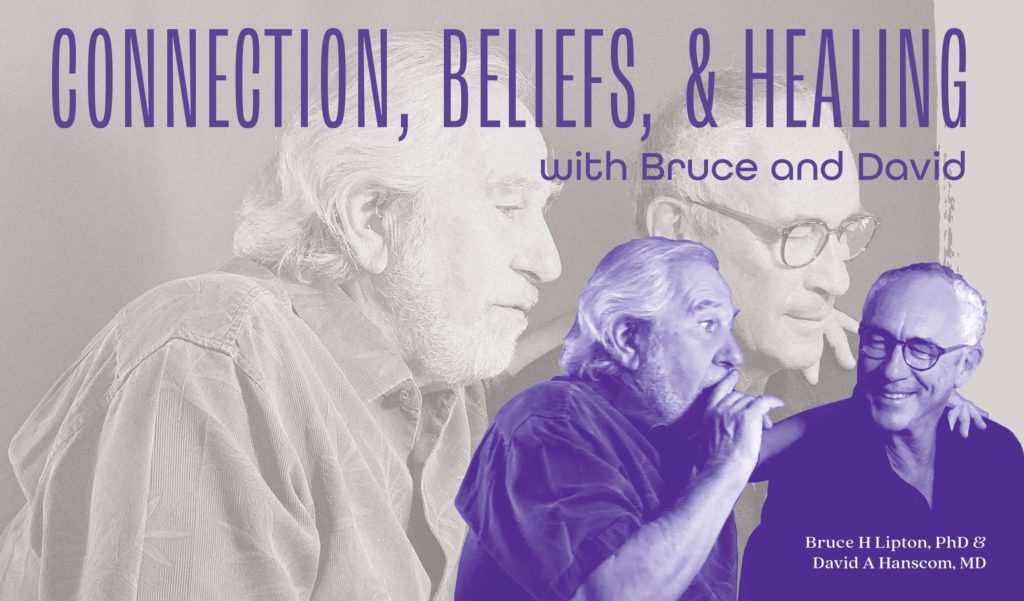 Connection, Beliefs, & Healing with Bruce and David – New 4-Part Streaming Series!
I am very excited to announce this new video series that I created with my friend and colleague, Dr. David Hanscom. This series will provide a greater understanding of the basis of life and how we respond to ongoing challenges. This knowledge provides deeper insight into the nature of chronic disease and clears a pathway for disease prevention and healing solutions.
The set of lessons connected to each video will deepen your knowledge of how your brain is influenced by your environment. By learning the skills to process your unconscious survival responses and understanding how to nurture joy, you will not only heal but move into a new realm of consciousness and thrive.
---
Bruce Recommends

MAJIK KIDS ( 100% Imagination and 0% Screen Time – produces the most magical audio stories, music & imagination meditations for your magical kids. They work with incredible storytellers, voice artists to play the characters and musicians to score the music & sound effects. "Movies for the Ears" is the idea… bringing all the fun of storytime, without the screen time, so your kids or grandkids can get off screens and back into their imaginations where they belong! Majik Kids helps you raise conscious creators, instead of passive consumers!
Listen to their Majik Kids stories for free at https://MajikKids.com
Be sure to check out their feature length Christmas Story, "Joy to the World"
Contribute your Magical Gifts: Become a Majik Artist at https://MajikKids.com/#Artist
Looking for writers, illustrators, voice artists, meditation guides & musicians!
For more than 20 years, my dear friend and colleague Lynne McTaggart, an internationally bestselling, award-winning author, has been uncovering your birthright – the miraculous power of intention. And now Lynne has just opened the doors to her iconic, long-awaited course, THE POWER OF EIGHT® INTENTION MASTERCLASS 2023! She's inviting you to join a select group of students on a year-long, intensive journey into the secrets of intention and the Power of Eight®. Learn more HERE.
---
Become a Member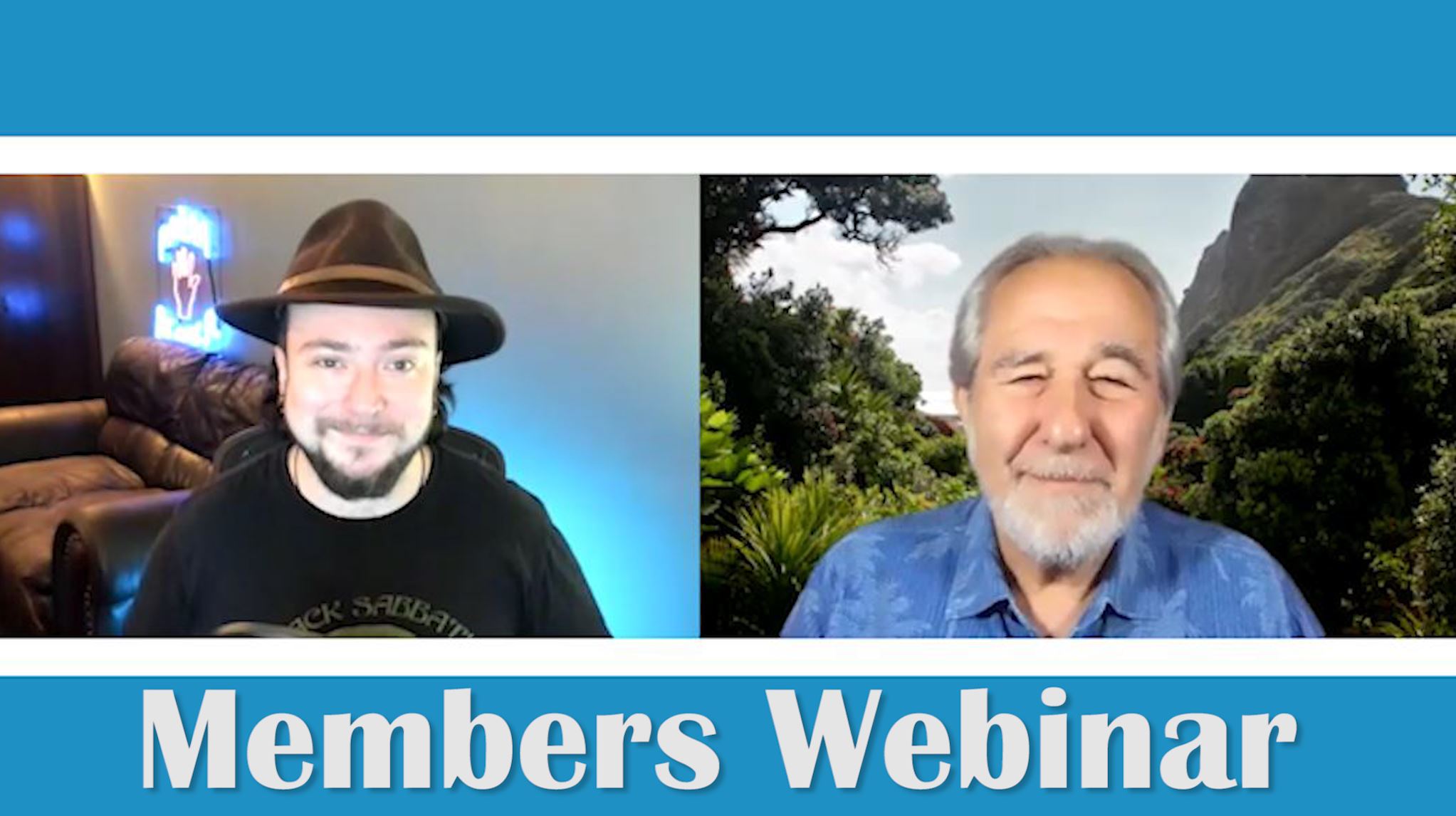 Join today for the next Membership Call, happening Saturday, January 7th, at 9:00am PDT and get exclusive access to the audio and video resources in the Bruce Lipton Archive – featuring over 30 years of cutting-edge research and teaching. Plus, when you join you'll have the chance to ask your questions and hear Bruce LIVE on our Monthly Member Webinar.