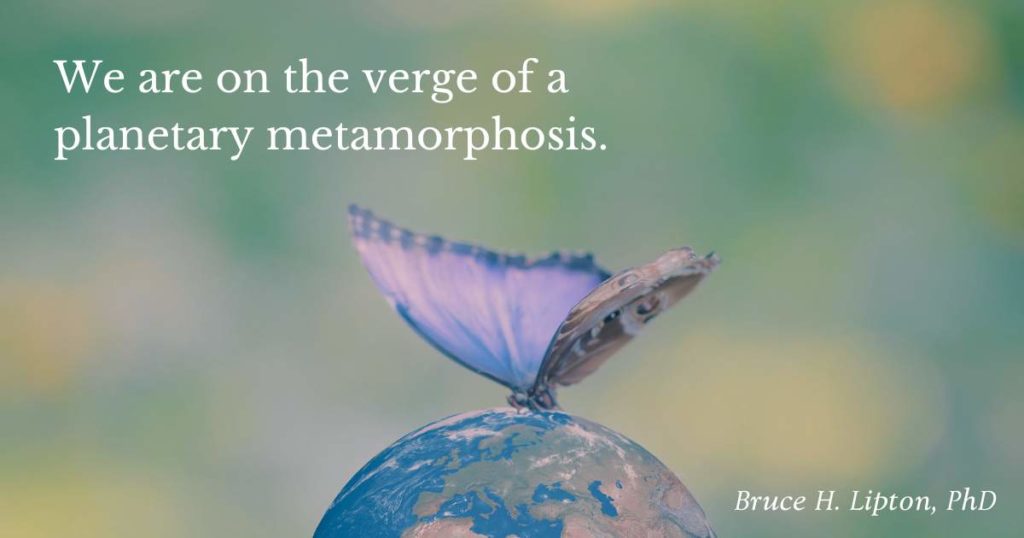 And why do so many of our institutions, from health care to banking, all seem to be failing at once?
These institutions were founded to support, enhance and complement the structure of civilization based on prevailing beliefs of that time. Where once these beliefs adequately addressed the perennial questions, their answers are no longer accurate. As science is telling us, life operates as an entangled whole, not merely as separate parts.
Consequently, the failure of our institutions to integrate new understandings is system-wide, and so all systems seem to be failing at once. As we are seeing particularly in the above-mentioned institutions, patching up the old system cannot work. Because there has been a change in the core beliefs of society, fundamental systemic change is required. We are on the verge of a planetary metamorphosis. This metamorphosis could be described quite simply – it is the story of the caterpillar and the butterfly. The old forms falling apart all around us, that is a healthy and necessary part of the transformative process.
Meanwhile, there is a butterfly being born, an amazing "flying machine" that will allow humanity to truly soar above anything it was able to accomplish as a crawling caterpillar. Interestingly, the caterpillar and butterfly have the exact same DNA. They are the same organism! The only thing different is the signal each is receiving. The new beliefs we are adopting based on more accurate information is providing the new "signals" that will usher in our spontaneous evolution.