Hello Dear Friends, Cultural Creatives and Seekers Everywhere,
I am honored to present this month's Newsletter video, After Skool's production of "How to Reprogram Your Mind," that's really about "How to Create Heaven on Earth." This animation presents a powerful educational tool in enhancing the knowledge offered in The Biology of Belief.
Civilizations are living systems, and as such, have a life cycle comprised of a birth, a period of maturation, followed by a period of dysfunction, decline, and an ending.
Consider the rise and fall of the Roman Empire as an example: A small city in Italy, Rome, became the birthplace of a new powerful civilization in 800 BC. Officially, Rome became an empire in 31 BC when Augustus Caesar proclaimed himself the first emperor of Rome. Subsequently, the Roman Empire controlled most of Western Civilization for 14 centuries until Sultan Mehmed II of the Ottoman Empire sacked the city of Constantinople in 1453 CE … the event that officially marked the END of the Roman Civilization.
Western Civilization since ~1870 has been defined as the era of Scientific Materialism, a period of life that has been shaped by the principles and philosophy of modern science. While the advances offered by science border on the miraculous, its failures have also precipitated the 6th Mass Extinction Event, confronting us with an imminent end of all human civilizations.
The global chaos we are now experiencing is not a coincidence but a sign that we are now facing the end of civilization as we know it. However, from history observed, as one version of civilization is in decline, the seeds of the next civilization are germinating. The current version of science held by the public emphasizes that our lives are preprogrammed in the genes we received from our parents at the moment of conception, a belief that stresses we are powerless in controlling our health and our behavior.
In contrast, new insights provided by quantum biophysics and epigenetics affirm our role as creators, wherein through consciousness, we are empowered to control our genetics and manifest our life experiences. Simply, we are moving from a civilization in which we perceive ourselves to be "victims" of life, to a new version of civilization wherein we exercise our powers as "creators."
However, to get there from here, the public must first acquire new knowledge … recognizing that knowledge is power and the new science is specifically the knowledge of "self-empowerment." It is for this very reason that I am deeply appreciative of After Skool's contribution in enhancing the message encoded in the "new biology's" awareness of self-empowerment.
In the chaos of an old civilization collapsing and a new version forming, we should heed the advice of futurist Buckminster Fuller: "You never change things by fighting the existing reality.To change something, build a new model that makes the existing model obsolete." YES … as we face the end of our current destructive civilization, we must let go of the old and embrace the new.
The change we need will not come to us, it will come through us when we are awake to the fullness of who we really are. In support of founding a new sustainable civilization, please consider joining Global Days of Unity on the third weekend of every month. Global Days of Unity is a unifying field for all forces, voices and expressions of love to co-create a whole that transcends the sum of its parts. It's an invitation for the community of love and consciousness to come together to infuse the collective field with vibrations of Unity, Peace and Love. For more details, please visit: https://globaldaysofunity.com/
I personally want to thank you, for YOU are the cultural creatives that are helping build a new, sustainable civilization, one that we can thrive into!
With Love and Light,
Bruce
Upcoming Events
At this time we are planning for these events to occur and will notify you if there's a change in schedule.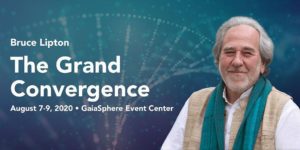 The Grand Convergence
August 7-9, 2020
Louisville, Colorado
Event Details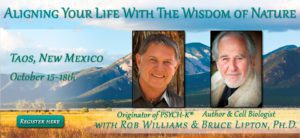 Aligning Your Life with the Wisdom of Nature
October 15-18, 2020
Taos, New Mexico
Event Details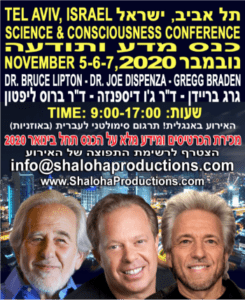 Science & Consciousness Conference with Dr. Bruce Lipton, Dr. Joe Dispenza, and Gregg Braden
November 5-7, 2020
Tel Aviv, Israel
Event Details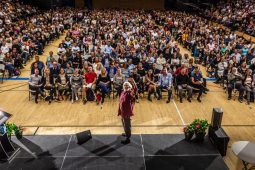 The Honeymoon Effect: The Science of Creating Heaven on Earth
December 4, 2020
Farum, Denmark
Event Details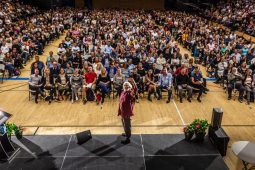 Workshop in the New Biology: Thriving in a World of Change
December 5, 2020
Farum, Denmark
Event Details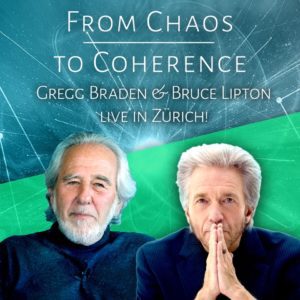 From Chaos to Coherence
December 12-13, 2020
Zurich, Switzerland
Event Details
---
Bruce's Spotlight

Years of lecturing around this beautiful planet have provided me an opportunity to encounter wonderful Cultural Creatives that are helping to bring harmony into the world. Each month, I want to honor cultural creatives by sharing with you the gifts they have shared with me.
This month, I'd like to honor Playing For Change, an organization and movement created to inspire and connect the world through music. From their website: "Playing For Change was born in 2002 as a shared vision between co-founders, Mark Johnson and Whitney Kroenke, to hit the streets of America with a mobile recording studio and cameras in search of inspiration and the heartbeat of the people."
Playing for Change finds incredible musicians and songwriters here to illuminate and reflect the world around us, and this recent video they shared really speaks to the times we are in right now: "It's Been Burning for A While" powerfully performed by Chris Pierce.
Thank you, Playing for Change and the artists involved for shedding light and bringing harmony to this world through music.
---
Featuring Bruce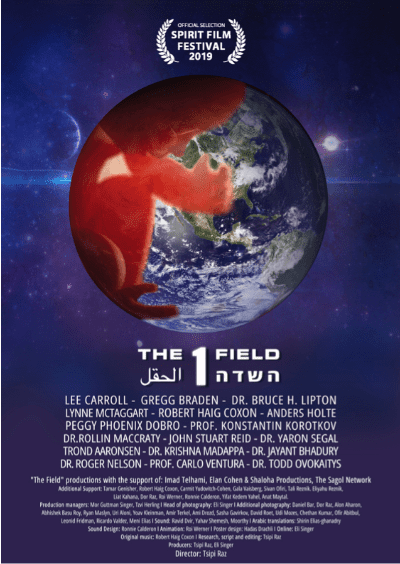 The 1 Field Movie
All cultures and ancient traditions tell about our being far beyond matter. 'The 1 Field', using the scientific tools of the 21st century, examines this assumption through interwoven storylines: The life stories and researches of groundbreaking figures in the study of consciousness, and scientific experiments supervised by research institutes and scientists worldwide. Watch HERE.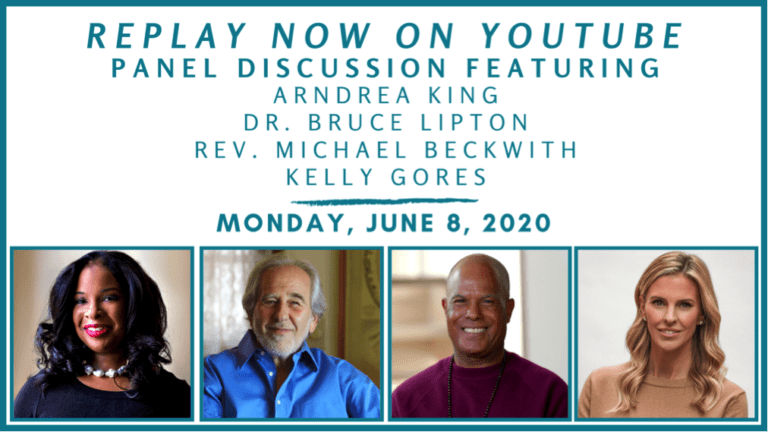 Watch the Replay from the LIVE panel featuring Arndrea King, Bruce Lipton, Rev. Michael Beckwith, moderated by HEAL director Kelly Gores. Explore how we can heal systemic racism in America and worldwide. They discussed the deep-seated, collective trauma of BIPOC caused by racism, oppression, and the tragic deaths of George Floyd, Ahmad Arbery, Breonna Taylor, and countless others. Explore the lessons, opportunities, and the changes we must make NOW.

In this free online video series, "Accelerating Your Evolution Through Science: Leading-Edge Discoveries That Will Improve Every Area of Your Life (and the World)," Gregg Braden, Deborah Rozman, Howard Martin, and Bruce Lipton offer tools and techniques to help you tap into the true intelligence of who you really are.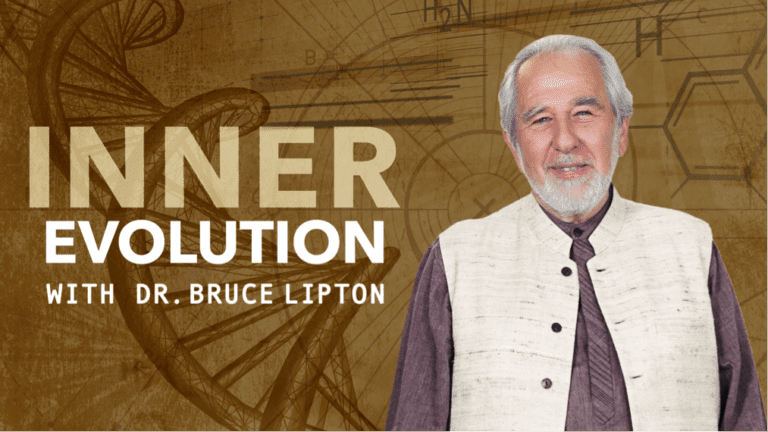 GAIA TV Series: Inner Evolution with Dr. Bruce Lipton
In this 13-part series, you will come to understand that you are not your genes. Your genetic expression is directly determined by your environment and, more importantly, your perception of that environment. What you will discover, is a scientific approach to understanding the spiritual connection that affects every part of the body. This will empower you to take back control over your genetic blueprint, the way your body responds to the environment, and achieve an inner evolution through biological change.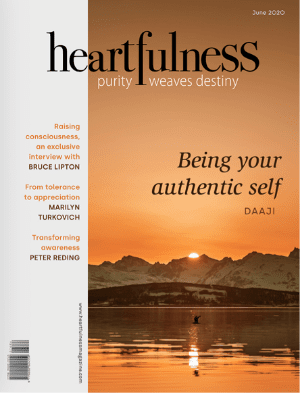 Heartfulness Magazine – Raising Consciousness – Part 1, interview with Bruce on page 10.
---
Become a Member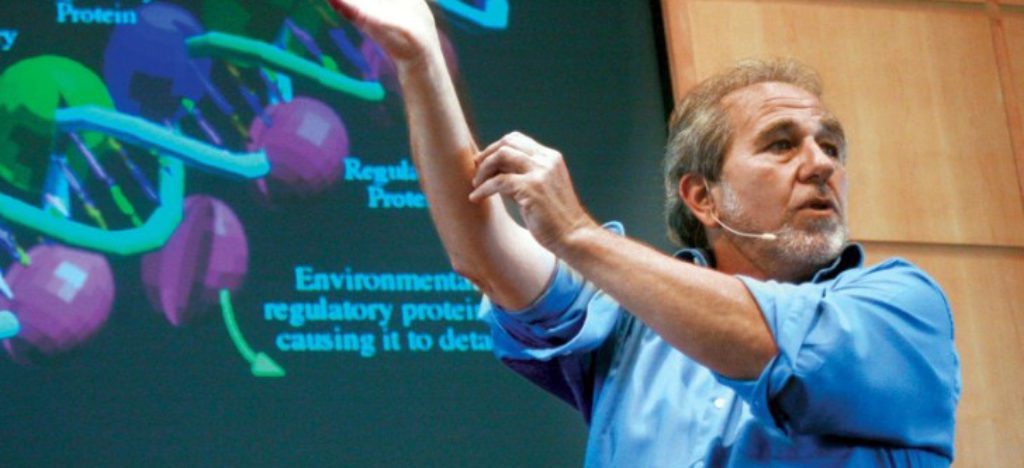 Join today for the next Membership Call, happening Saturday July 18th at 9 am PDT and get exclusive access to the audio and video resources in the Bruce Lipton Archive – featuring over 30 years of cutting-edge research and teaching. Plus, when you join you'll have the chance to ask your questions and hear Bruce LIVE on our Monthly Member Calls.
Because our Members are entitled to unique information directly from Bruce as well as the information to create heaven on earth, your library membership will become…well priceless….JOIN FOR UNLIMITED ACCESS