Hello Dear Friends, Cultural Creatives & Seekers Everywhere,
The Central Dogma: From Dogma to Doo-Doo
In 1958, Francis Crick, co-founder with James Watson of the DNA genetic code, defined the concept referred to as The Central Dogma. This dogma described how the organizing information in biology represented a one-way flow from DNA > RNA > Protein.
The Central Dogma provided the foundation for the principle of Genetic Determinism, the belief that genes "determine" the character and quality of our lives. While I taught this concept to medical students for over a decade, it was only after I left academia that I looked-up the definition of Dogma: A belief based on religious persuasion and not scientific fact. At that moment I realized I had been teaching religion in medical school.
When confronted with the real definition of dogma, Crick responded, "I used the word the way I myself thought about it, not as most of the world does, and simply applied it to a grand hypothesis that, however plausible, had little direct experimental support."
The main point is that The Central Dogma, a hypothesis that was never tested, has been repeated so consistently over the last 60 years that people have bought it to be a scientific fact. This dogma has always been an unverified "suggestion."
As far as we know, we didn't pick the genes we came with; we can't change the genes if we don't like their character; and we are also told that genes "turn on and off" on their own. The public has come to the obvious conclusion that they are victims of their heredity. (An important fact to consider is that less than 1% of disease is caused by genes. Cancer, cardiac disease, diabetes, [fill the blank], are primarily the consequence of lifestyle, consciousness, and environment).
The first crack in The Central Dogma was introduced by Harold Temin, who was studying the HIV virus in 1969. He found that in addition to the virus's programming messenger RNA, the virus also contained the information to create a special protein enzyme, Reverse Transcriptase. This enzyme copies the viral RNA and inserts a DNA version of that message into the cell's genome as a new gene. The Central Dogma was challenged by the fact that RNA can flow back into and change the chromosomal DNA.
My own pioneering research on cloned stem cells revealed that the environment, via the chromosome's proteins, controls gene activity. This insight is the foundation of the new science of Epigenetics. The prefix epimeans "above." Consequently, epigenetic-control of genes simply translates as "control" ABOVE the genes." That "control" is represented by signals from the environment. The Environment Controls Genes. For example, an amoeba in a pond continually adjusts it genetic activity in response to the information from the surrounding environment.
To survive, the ~50 trillion cells that comprise our body must also adjust their genetics to accommodate environmental signals. HOWEVER, the body's cells contained within the environment under the skin are disconnected from the outer surrounding environment. Within the body, cells live in a fluid environment created by the blood. Yet, our body's cells must adjust their behavior and genetics to accommodate the environment outside of the body.
One of the primary functions of the nervous system is to "read" external environmental signals and inform the internal cell community to the demands of the external world. While the nervous system in humans perceives the environmental signals, it is the Mind that interprets those signals. In response, the brain releases chemicals (hormones, emotional chemicals, growth factors, etc.) that complement the mind's interpretation of the environment's signals. These neural chemicals, when released into the cell's blood environment, control the behavior and genetics of the body's cells to support our survival and vitality.
The most important insight is that the perceptions of the mind control genetic activity and our health. Two people in the exact same environment, but with different perceptions about life, will express totally different physiological consequences to the same environmental signals. Most importantly, the environmental information, translated by the cell's proteins flows back into the DNA. This completely undermines Crick's "dogma," while simultaneously revealing that we are not VICTIMS of our heredity, but in fact, are MASTERS of our genetics.
Mind-Body relationships are not the consequence of "New-Age" wishful thinking, but in fact, are an expression of hard science. Be conscious of your thoughts … because your life depends upon them!
Wishing YOU … health, happiness, and harmony,
Bruce
---
Upcoming Events
At this time we are planning for these events to occur and will notify you if there's a change in schedule.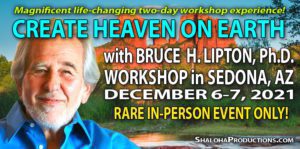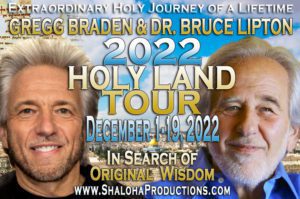 Holy Land Tour with Gregg Braden and Dr. Bruce Lipton
---
Bruce's Spotlight
Years of lecturing around this beautiful planet have provided me an opportunity to encounter wonderful Cultural Creatives that are helping to bring harmony into the world. Each month, I want to honor cultural creatives by sharing with you the gifts they have shared with me.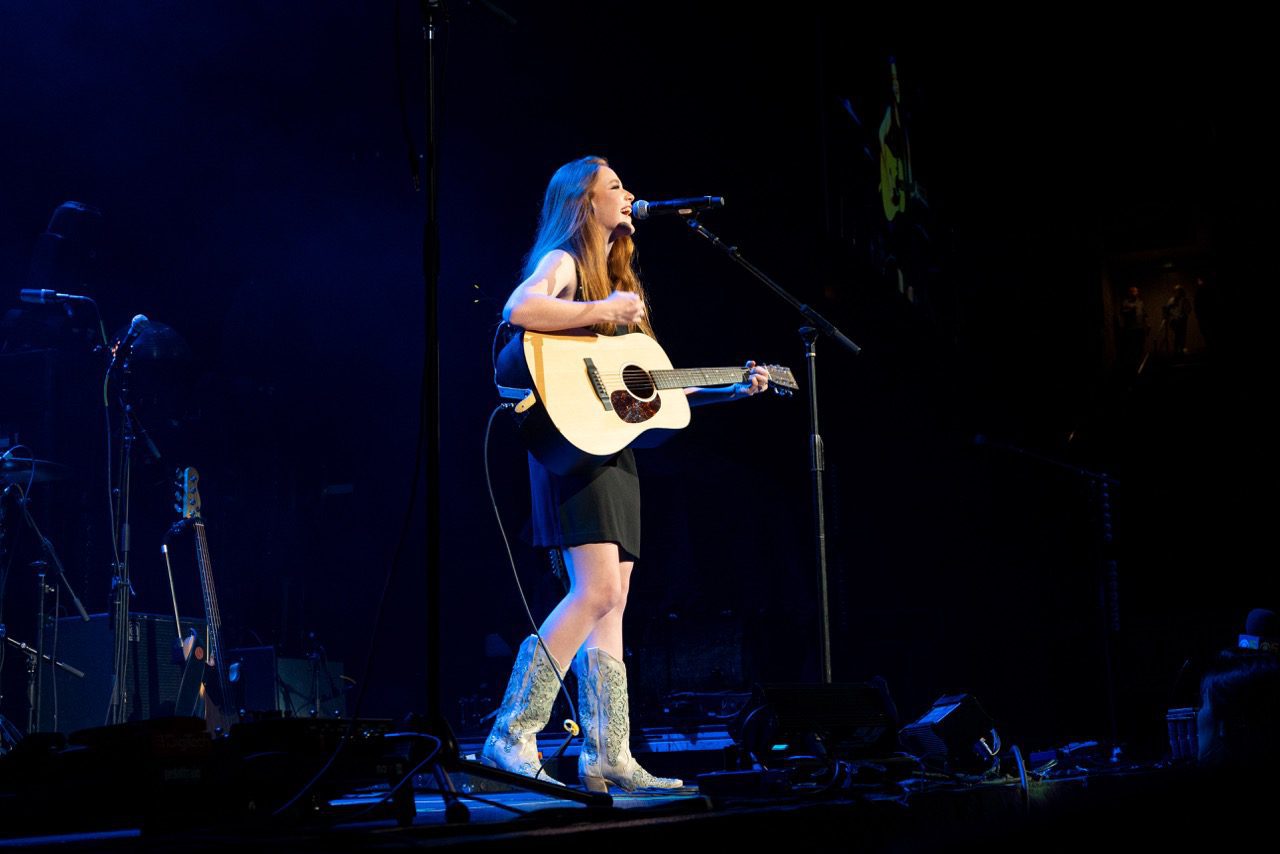 This month I would like to honor musical artist, Grace Kelly. Margaret and I have known Grace since she was pre-school age. The daughter of my friend and former President of the Chiropractic School where I teach in New Zealand, we have watched her grow into an incredible singer-songwriter and performer, as well as win the contest for the new "city song" of San Jose, CA, replacing a song that had been there for 50 years!
In Grace's words:
What a beautiful privilege it is to be featured in Bruce and Margaret's newsletter. Two people who I grew up learning from and being encouraged by. It's moments like these that remind me I'm no longer the little 12 year old girl who wanted to do music for a living and inspire others… I'm living that dream! That's manifestation baby!
In 2019 I had the craziest year. My friends and classmates were studying for exams, and I was focused on entertaining a city that gave me my first platform as an artist. People were talking about me on the radio and the news calling me "Singer-songwriter Grace Kelly", "Grace Kelly a new country artist". It was finally happening, I thought, I had graduated to an 'artist' not just 'Grace who writes songs'. I had written a song about San Jose (California), the city where I grew up with my dad for a handful of my years. The CEO of the tourism board, Karolyn, wanted to use it for their next city marketing campaign. I was flown over to film a music video, be featured on KRTY radio, and like a kid in a candy store I was exactly where I wanted to be.
My brother joined me on the trip and we had a blast! I remember him saying to me "you should make it your goal to play here one day". Obviously that thought had entered my mind. How's this for manifesting! Months later when the buzz had died down, and I'd gotten used to a classroom being my 'norm' again, another blessing landed at my door… at 4am. My dad rushed over to tell me I had been invited to open for Blake freaking Shelton, at the SAP Arena in San Jose.
My main genre is country music. But at the moment I'm having fun with the freedom of exploring genres and sounds. However country music was different. When I went to Nashville I saw the effect this genre had on people. I had never seen anything like it before. I loved the humour, the sass, the heartache and I wanted to be a part of it – part of the musicians bringing joy to the people. That's what music has always been about for me.
Have a listen to Grace's beautiful voice and music on Spotify and follow her on Instagram or Facebook!
---
Featuring Bruce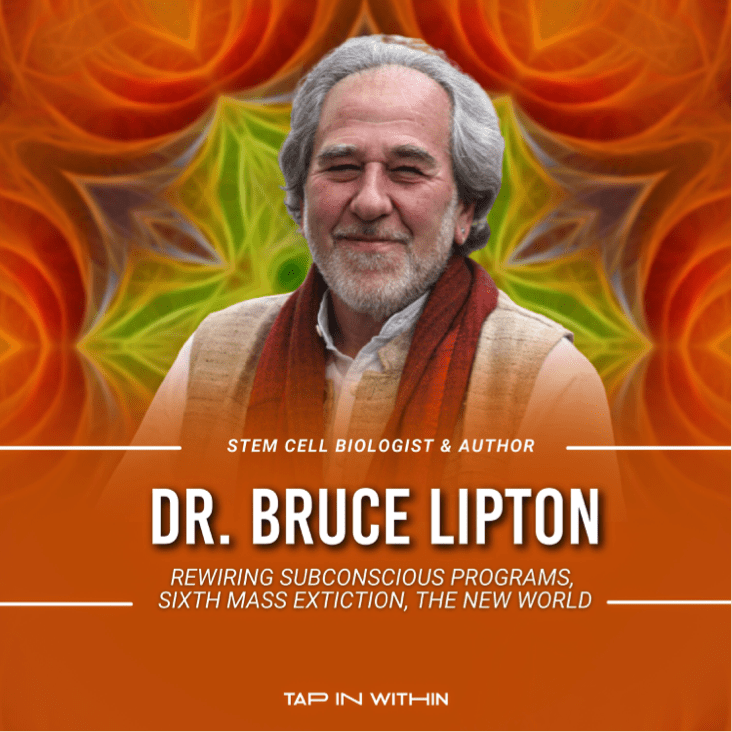 Tap In Within Podcast ~ Listen to Bruce speak with Emilio from Tap In Within about rewiring your subconscious programs, the sixth mass extinction, and the new world, on Spotify, Apple Podcasts or YouTube!
---
Bruce Recommends
Hollywood to the Himalayas, A Journey of Healing and Transformation,
by Sadhvi Bhagawati Saraswatiji
Great News! My dear friend, Sadhvi Bhagawati Saraswatiji, has written an inspiring, uplifting and incredibly fascinating (and even very funny!) memoir called, Hollywood to the Himalayas: A Journey of Healing and Transformation, which details her beautiful and inspiring journey from being an upper class white American, Stanford educated young woman to being a spiritual seeker and ultimately spiritual leader on the banks of Ganga in Rishikesh, India. It dives into her personal struggles, challenges and trauma from childhood and her youth, and how she found deep spiritual healing and freedom. Through her story she shares how WE can all find this healing and freedom. Learn more about this beautiful memoire HERE and find it on Amazon HERE.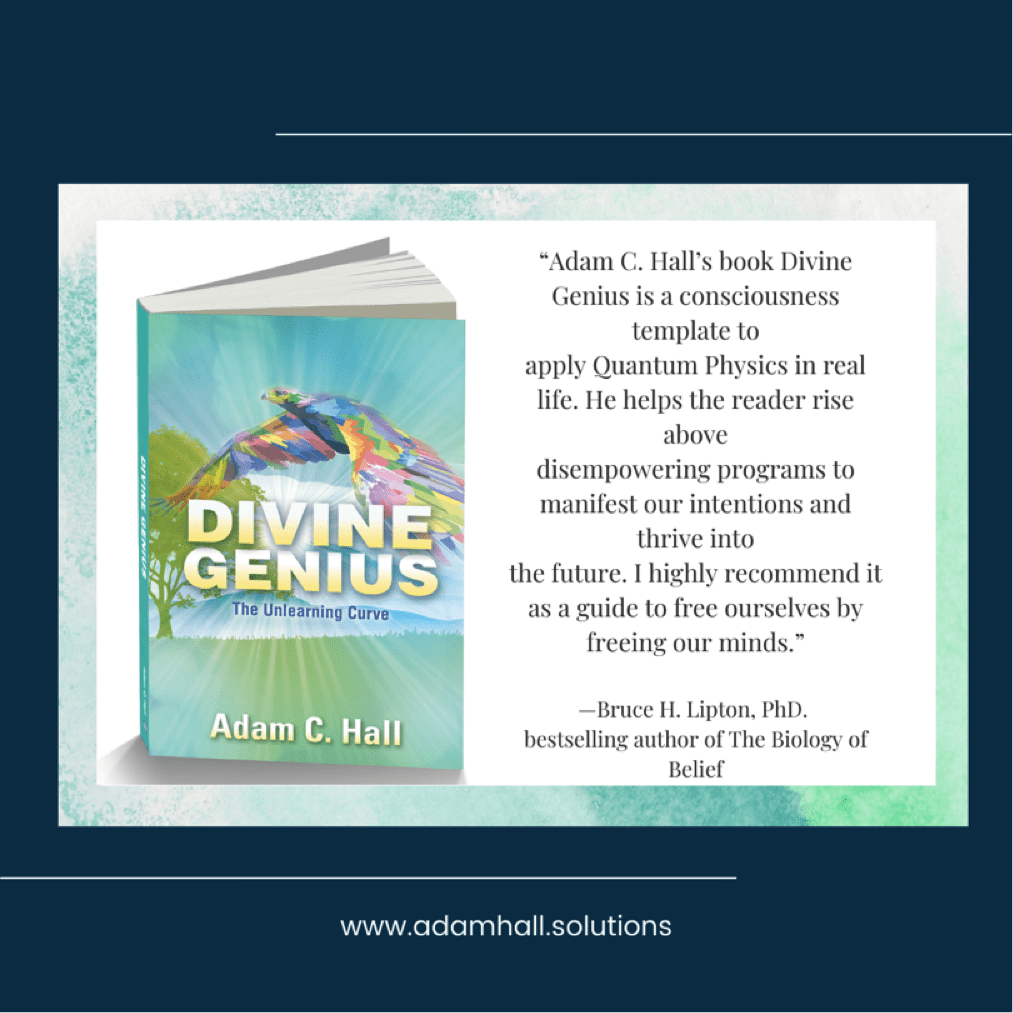 Divine Genius, The Unlearning Curve by Adam C. Hall
Divine Genius: The Unlearning Curve guides the reader through the author's life-changing experiences in the jungles of Peru and imparts the wisdom he gained from his journey. As this story unfolds, Adam C. Hall vividly recounts many of his personal struggles—from childhood to adulthood, in relationships and in business—that underscore the insights he shares.
This book explores the process to discover the true nature of one's own reality, and offers Thirteen Wisdom Teachings communicated to the author by an ascended master. Through these Thirteen Wisdom Teachings, Hall provides the tools you need to unlearn the ego's fear-based thinking, reveal your authentic Self, and discover your Truth. Learn more about Adam's work HERE and find the book on Amazon HERE.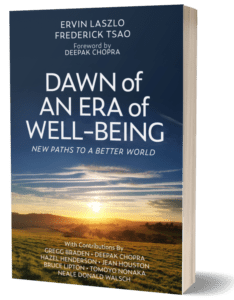 The Wisdom of Ervin Laszlo ~ "To find our way toward a better life and a better world we need science as well as spirituality. Science without spirituality misses the intuitive elements of human experience…but spirituality without science cannot offer reliable guidance for confronting the problems we face in the world." — Ervin Laszlo, The Portable Ervin Laszlo.
Learn more about Ervin Laszlo's important work and find his books HERE.
---
Check out our Website
We are so very happy to share the next evolution of our website at BruceLipton.com! It is our pleasure to present a new site with improved navigation and a cleaner design, providing easier access to Bruce Lipton's teachings, interviews, free resources, and more.
Please take a look around the new site to find all of the archived monthly newsletters; hundreds of hours of educational (and entertaining) videos and interviews; access to free resources organized by category; a new and improved contact page; and a directory of complementary healing modalities.
We also have an exciting new feature for our membership (learn more here).
---
Become a Member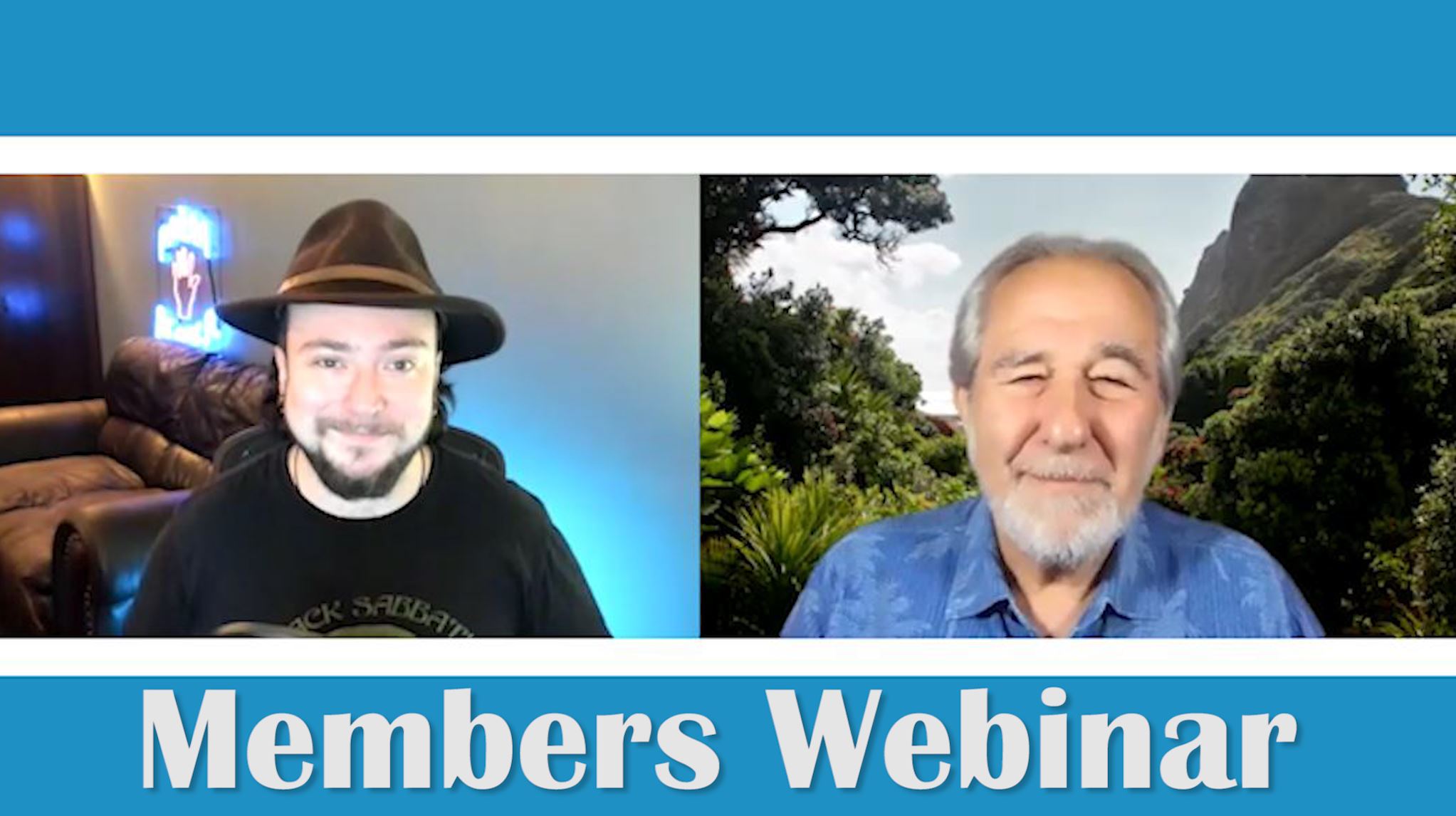 Join today for the next Membership Call, happening Saturday August 7th at 9:00am PDT and get exclusive access to the audio and video resources in the Bruce Lipton Archive – featuring over 30 years of cutting-edge research and teaching. Plus, when you join you'll have the chance to ask your questions and hear Bruce LIVE on our Monthly Member Webinars. Learn more about Membership details.