Hello Dear Friends, Cultural Creatives and Seekers Everywhere,
The "secret of life" is not encoded in the genes!
It was once thought that genes could turn themselves on and off, and in the process, they could control the character of our lives. This belief led to the conclusion that our fate was controlled by the genome we acquired from our mother and father at the moment of conception. Unfortunately, if we do not like the traits we inherited, we cannot change our genes. When we combine these facts with the notion that genes control their own activity, we are left with the inescapable conclusion that we are "victims" of our heredity and should anticipate expressing the diseases and negative traits passed down through our family lineage.
In contrast, my stem cell experiments carried out in the late 60's revealed that genes are not self-actualizing, simply, they are unable to control their own activity. These studies illuminated the new science of epigenetics, which revealed that our genetic activity is ultimately controlled by both a) environmental signals and b) our perception of the environment's signals. Since we can consciously select our environments and we have control over our perceptions, in truth, we are actually "masters" of our genetic activity.
Current research emphasizes that less than 10%, and perhaps closer to only 1%, of all diseases are actually due to genes. In fact, there are only six major disorders that are controlled by a single gene, which include cystic fibrosis, hemophilia, Huntington's disease, Tay-Sachs disease, hereditary hemochromatosis, and Marfan syndrome. In light of this fact, the most profoundly important question to ask is, "Where does 90%, or more, of disease come from?" Answer, "Our own minds."
If an individual's mind holds a "belief" that they anticipate expressing a specific disease, it can actually precipitate that illness, and even death itself. Does that imply we are consciously creating illness? Absolutely not! Disease-inducing negative thoughts, recognized as the nocebo effect, operate unconsciously and are almost always related to self-critical and disempowering beliefs acquired from parents, family, and even doctors, before the age of seven. Such beliefs downloaded into the subconscious mind control 95% or more of our cognitive activity and our resulting life experiences.
Rather than responding to negative prognoses and depending on pharmaceutical interventions in dealing with disease, it is vital that we first assess subconscious programs and identify and rewrite limiting beliefs that undermine our power and our health. If this conclusion sounds too simple, recognize a very important fact: Quantum physics is the most tested and valid of all sciences on Earth. A fundamental principle of this science emphasizes that, "consciousness is responsible for the character of our lives."
In conjunction with the new science of epigenetics, both biology and physics emphasize that we are "creators" of our life experiences. Free your mind and your life … for more information on acquiring self-empowerment, visit www.brucelipton.com.
With Love & Light,
Bruce
---
Upcoming Events

Life Strategies
Sat, Sep 7, 2019 to Sun, Sep 8, 2019
Rome Marriott Park Hotel, Rome, Italy
Event Details

Conscious Evolution
Sep 21, 2019 to Sep 22, 2019
Zagreb Croatia
Event Details

The Turning Point: Thriving Through Evolutionary Chaos
September 27, 2019
Copenhagen Denmark
Event Details

Find Your Flow
September 28, 2019 to September 29, 2019
Basel Switzerland
Event Details

Celebrate Your Life – Sedona Retreat
October 31 – November 4, 2019
Sedona, Arizona
Event Details

Scientists, Mystics, and Sages
November 7, 2019 to November 11, 2019
Hyatt Regency Tamaya Resort & Spa, Pueblo, New Mexico
Event Details
---
Also coming up in 2019 (more information coming soon!)
November 22: Palo Alto, CA – Unity Church
---
2020 Events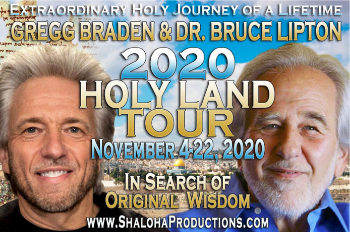 Holy Land Tour with Gregg Braden and Dr. Bruce Lipton
Nov 4 – 22, 2020
Israel
Event Details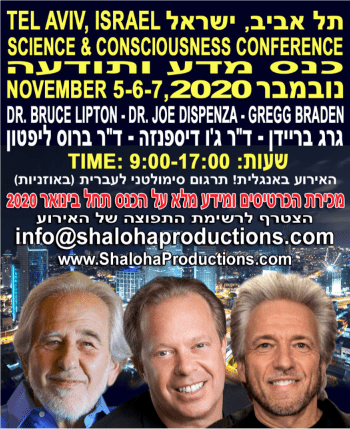 Science & Consciousness Conference with Dr. Bruce Lipton, Dr. Joe Dispenza, and Gregg Braden
November 5-7, 2020
Tel Aviv, Israel
Event Details
---
Bruce's Spotlight on Spoken Word
Years of lecturing around this beautiful planet have provided me an opportunity to encounter wonderful Cultural Creatives that are helping to bring harmony into the world. Each month, I want to honor cultural creatives by sharing with you the gifts they have shared with me.
This month, I'd like to spotlight the work of Prince Ea. We met working together as citizens of the UPLIFT Global Nation of Unity, Peace and Love.
Prince Ea touches the hearts and minds of people all over the world with his creative, thought-provoking, and inspirational material that teaches love, peace, and harmony. In his words: "I was born and raised on the North Side of St. Louis Missouri. I've been a filmmaker, speaker, and activist for over a decade. I believe we have a limited number of breaths on this planet. This realization is what led me to create the content I produce now. I am grateful for every moment, every unrepeatable miracle, and while I'm here I want to reach every single heart on the planet to show them that at our core we are Love, we are free, and we are one."
We find Prince Ea to be a leading voice in helping our world evolve. We hope you are moved by Prince Ea's message, as well.
Two of my favorite Prince Ea videos are: "Sorry" and "I am Not Black, You are Not White."
Visit Prince Ea's website to learn more.
---
Featuring Bruce

Sounds True ~ Wisdom of the Body Summit
Enjoy lifetime access to a wealth of practical insights and tools that can support you in improving your physical health. Includes Bruce's lecture on The Human Mind: The Voice of the Creator.
---
Bruce Recommends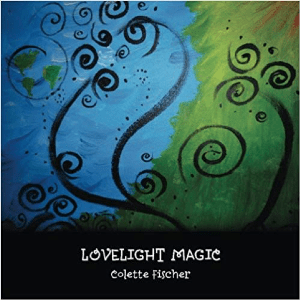 Lovelight Magic by Colette Fischer offers an inspiring and heartwarming message that can simply be enjoyed, or utilized as a positive parenting tool encouraging peaceful behavior. In a format accessible to children, it also provides an enriching resource to classrooms pursuing conflict resolution strategies and holistic peace education.
---
Become a Member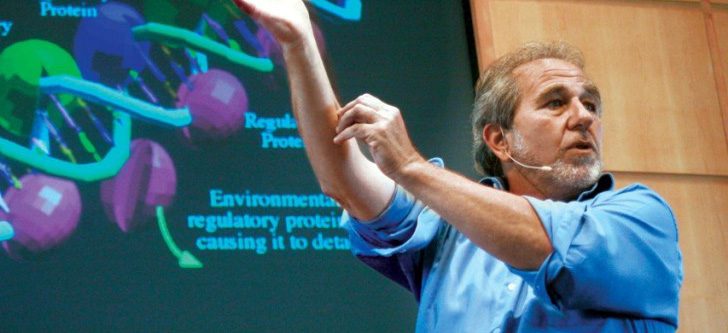 Join today for the next Membership Call, happening Saturday, August 31, 9am PDT and get exclusive access to the audio and video resources in the Bruce Lipton Archive – featuring over 30 years of cutting-edge research and teaching. Plus, when you join you'll have the chance to ask your questions and hear Bruce LIVE on our Monthly Member Calls.
Because our Members are entitled to unique information directly from Bruce as well as the information to create heaven on earth, your library membership will become…well priceless….