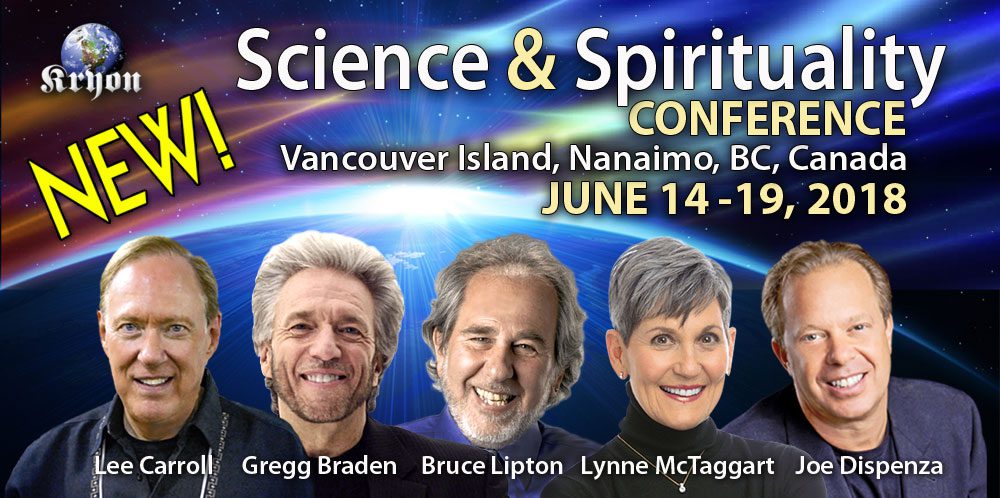 Date: Thu, Jun 14, 2018 9:00am – Tue, Jun 19, 2018 6:00pm
VANCOUVER ISLAND CONFERENCE CENTER
Namiano
BC
Canada
Join us for one of the best conferences in 2018, with five of the top world pioneers, brightest minds, leaders, authors and teachers in the field of science and spirituality – Dr. Bruce Lipton, Gregg Braden, Dr. Joe Dispenza, Lynne McTaggart and Lee Carroll – for an extraordinary life-changing event. Almost all will present a full day workshop of their own, in addition to a special two-day keynotes, presentations, panels and Q&A's! You will hear the latest groundbreaking information, experience, practice and receive tools to implement in your day to day life and spiritual path evolution, increasing awareness and expanding consciousness.
Bruce H. Lipton's workshop The Honeymoon Effect: Happily Ever After Is Not Just For The Movies on Sunday, June 17, 7:30-9:30 pm
The Honeymoon Effect: A state of bliss, passion, energy, and profound health resulting from a huge love. Your life is so beautiful that you can't wait to get up to start a new day and you thank the Universe that you are alive.
While the Honeymoon Effect is frequently equated with romantic love, the same experience occurs when we are engaged in activities we personally "love," such as gardening, cooking, painting, singing, etc. While immersed in romance or in our joyous interests, we leave the issues of the conventional world behind. At such times we experience Heaven-on-Earth!
Imagine what it would be like if you could maintain the Honeymoon Effect throughout your whole life. Bruce H. Lipton, PhD, describes how the Honeymoon Effect is not a chance event or a coincidence, but a personal creation. Bruce will reveal the science behind manifesting the Honeymoon Effect and the reasons why it is usually a short term experience. This knowledge empowers listeners to manifest the honeymoon experience in a way that ensures a happily-ever-after relationship that even a Hollywood producer would love.