The Honeymoon Effect Meditation—with Detlev Tesch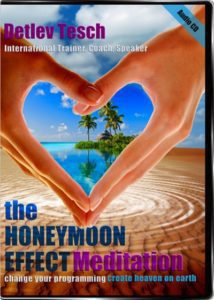 Inspired by the wonderful The Honeymoon Effect, this meditation has been created specifically to be used when brain activity is in the relaxed theta range. A theta-inducing guided relaxation exercise is inlcuded so the meditation can be used at any time. The wording and affirmations in this meditation have been formulated to help your mind release old sabotaging beliefs and replace them with new life enhancing behaviors.
Detlev Tesch, owner and founder of Tesch Consulting based in Bonn, Germany says: "Inspired by the wonderful Honeymoon Effect book, I created this meditation."
Tracks:
Relaxation
Meditation
Relaxation With Music
Meditation With Music
Relaxation and Meditation together take about 30 minutes.
Buy in Europe too at http://kunaki.com/Sales.asp?PID=PX00ZW508Z
Download option available through Gumroad