The Biology of Belief (audio, unabridged)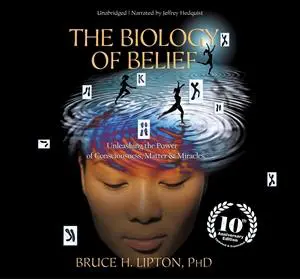 It has been more than 15 years since the publication of The Biology of Belief, Dr. Bruce H. Lipton's seminal book that changed the way we think about our lives, our health, and our planet. During that time, research in the field of epigenetics has grown exponentially, and Dr. Lipton's groundbreaking experiments have been reinforced by more than a decade of rigorous scientific study.
Now, this unabridged audio of the book explores Dr. Lipton's experiments and those of other leading-edge scientists who have unraveled the profound connections between the mind, body, and spirit.
It is now widely recognized that genes and DNA do not control our biology. Instead, they are controlled by signals from outside the cell, including energetic messages emanating from our thoughts. This profoundly hopeful synthesis of the latest and best research in cell biology and quantum physics puts the power to create a healthy, joyous life back in our own hands.
Through simple language, humor, and real-life examples, you'll discover how epigenetics is revolutionizing our understanding of the link between mind and matter. When we transform our conscious and subconscious thoughts, Dr. Lipton teaches, we transform our lives—and in the process, we help humanity evolve to a new level of understanding and peace.
Narrated by Jeffrey Hedquist.
Listen to a sample:

Unabridged, 9 CDs
Run Time: 10 hours, 24 minutes
Narrated by Jeffrey Hedquist.
Download option available through Sounds True