Get Inspired with Max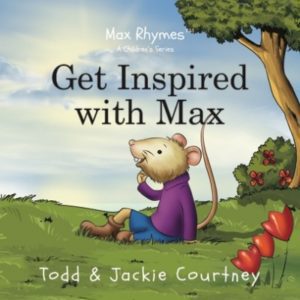 Max shows how he uses his imagination to create his happy world and teaches his readers how they can do anything when they put their mind to it.
Welcome to the world's first self-help books for toddlers!
Inspirational Nursery Rhymes by Todd and Jackie Courtney
Just as Tony Robbins teaches adults to walk on fire to get over fear, we teach toddlers to walk on marshmallows so they never have fear!
Nursery Rhymes are simple, yet very effective rhymes for ages 0-7 and written to create a positive belief system & a positive self-image, whereby the process is scientifically proven to work.
Language acquisition plays a fundamental role in exercising an infant's brain and shaping its intelligence. Research reveals that interactive social experiences with parents, through conversation and reading, provides a gateway to enhancing a child's linguistic, cognitive, and emotional development.

The social programming a child receives before age seven is the primary determinant of its health and fate as an adult. I encourage parents, grandparents and extended family members to review the new series of Inspirational Nursery Rhymes by Todd and Jackie Courtney. Their compilations of beautifully illustrated, consciousness-enhancing messages are designed to elicit a child's intelligence, integrity, and respect for others and our planet. Inspirational Nursery Rhymes is a powerful tool to help children reach their full potential … a benefit for all of humanity, since a child's behavior will ultimately influence the evolution of us all.

–Bruce H. Lipton, PhD, Cell biologist and bestselling author of The Biology of Belief, Spontaneous Evolution (with Steve Bhaerman) and The Honeymoon Effect