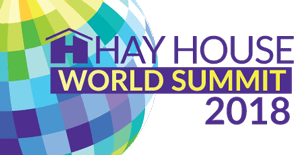 Date: Thu, May 17, 2018 8:00am – Thu, May 24, 2018 6:00pm
This is your last chance to watch the Hay House World Summit live, so if there's a film or talk you're still
itching to watch or listen to, now's your chance. Register here: https://www.hayhouseworldsummit.com/?a=4254&c=5750&p=r
If you feel like there just isn't enough time, you may be right! We wanted to make it super easy for you
to take these amazing talks and films home with you because let's face it
-the more these talks like these in people's homes and
across the world, the more inspiration and positivity in the world, too.
Right now, when you purchase the entire World Summit, including all 100 talks and 15 films, you can
make 3 payments as low as $70 each PLUS get $3,983 in bonuses when you do. This
chance goes away soon, and we don't offer these talks anywhere else!
Register here: https://www.hayhouseworldsummit.com/?utm_campaign=hhws&utm_medium=Affiliate
For more information: